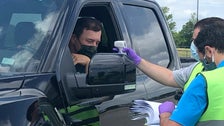 HuffPost reporters around the world are tracking the pandemic and the measures being taken to flatten the curve of transmission.
Read the latest updates on the coronavirus pandemic below. (To see the latest updates, you may need to refresh the page. All times are Eastern. For earlier updates on the pandemic, go here.)
U.S. Death Toll Surpasses 90,000 — 5/18/20, 4:45 p.m. ET
The United States surpassed 90,000 coronavirus-related deaths on Monday, according to data tracked by Johns Hopkins University.
Of those, nearly a third — 28,339 — are in New York state alone. New Jersey, the second-hardest hit state, has seen an additional 10,439 deaths.
Massachusetts (5,797 deaths), Michigan (4,915), Pennsylvania (4,705), Illinois (4,177) and Connecticut (3,450) round out the next five most affected states.
Confirmed COVID-19 cases in the U.S. also ticked past 1.5 million Monday.
— Ryan Grenoble
Texas To Let All Summer Camps Open In Two Weeks — 5/18/2020, 3:50 p.m. ET
Texas Gov. Greg Abbott (R) announced Monday that all youth summer camps, including both day and overnight camps, may reopen on May 31. 
The move comes despite public health warnings that camps, schools, day cares, and other large congregations of children are hotbeds for the spread of coronavirus. Guidance from the Centers for Disease Control and Prevention said such gatherings should only take place when coronavirus cases are on the decline. The CDC outlines strict social distancing policies that should be in place upon resuming child care services.
The restrictions that Texas summer camps will have to comply with are not yet clear.
— Lydia O'Connor
First Coronavirus Vaccine Trial Produces Promising Results, Company Says — 5/18/20, 11:20 a.m. ET
The first coronavirus vaccine to have been tested in people appears to be safe, according to the vaccine's manufacturer.
The trial involved eight people who each received two doses of the vaccine beginning in March, The New York Times reported Monday. The company, Moderna, will now test the vaccine in two more phases with a larger sample size of people.
If the trials continue to show promising signs, the vaccine could become widely available by the end of the year or early next year, Moderna told the Times. But it's unclear how many doses the company could produce.
On Friday, President Donald Trump and his administration boldly claimed there would be a full-scale vaccine readily accessible in the United States by January. But public health experts have warned that vaccine development could take anywhere between 12 to 18 months, perhaps longer. 
— Marina Fang
China Pledges $2 Billion In Virus Help At WHO Assembly — 5/18/2020, 8 a.m. ET
Chinese President Xi Jinping said in a speech to the World Health Assembly that China will provide $2 billion over two years to fight the coronavirus pandemic. China's pledge comes as the Trump administration has cut off funding to the WHO and the U.S. president is reportedly changing his mind on whether to reinstate limited funding.
At the assembly, EU member states and other countries supported the idea of an independent evaluation of the WHO's initial response to the pandemic, the Associated Press reported.
— Liza Hearon
Italy's Next Phase Leaves Retailers In Limbo — 5/18/20, 6:05 a.m. ET
Almost 2,000 shops will remain closed in Rome today despite Italian Prime Minister Giuseppe Conte giving in to demands by regional leaders to allow restaurants, bars and beaches to reopen weeks ahead of schedule.
"We are confronting this risk and we need to accept it. Otherwise, we would never be able to relaunch," Conte said.
But many business owners in the Italian capital will keep their doors shut amid uncertainty over the hurriedly published rules and fears that they will carry liability if employees become infected, HuffPost Italy reported.
Italy is finally emerging after being under one of the world's longest and strictest lockdowns, with hairdressers, places of worship and museums also allowed to open their doors again to the public.
Tight sanitary protocols and social distancing rules will require people to stay one meter apart. Security guards will count how many people are in a store at any one time and clothes tried on in changing rooms will be quarantined for 24 hours.
Almost 32,000 Italians have died of COVID-19 since the outbreak came to light on Feb. 21, the third-highest death toll in the world after the United States and Britain.
— James Martin
Health Workers Create 'Guard of Dishonor' For Belgian P.M. — 5/18/20, 5:50 a.m. ET
Belgian Prime Minister Sophie Wilmès received a cold reception at the Saint-Pierre hospital in Brussels on Saturday after hospital staff turned their backs on her in a "guard of dishonor."
For months, local nursing staff have been demanding greater recognition and demonstrating against the recruitment of what they call "unqualified personnel" to carry out traditional nursing tasks, HuffPost France reported.
Belgium, which has a population of 11 million, has recorded the 8th highest number of infections in Europe at 55,280 and reported just over 9,000 deaths. 
Schools in Belgium will partially reopen Monday after a two-month lockdown, along with markets, museums and zoos.